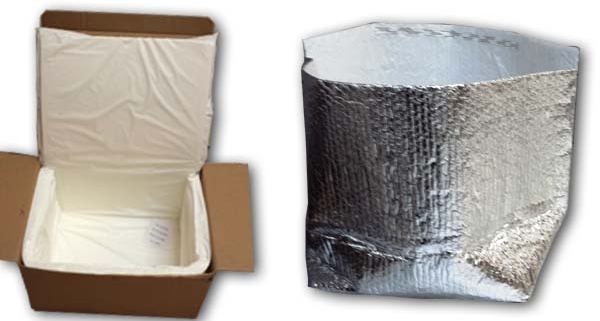 Keeping It Fresh: The Hidden Heroes Behind Successful Cold Transport
When it comes to the transportation of perishable goods, maintaining freshness and quality is a top priority. In this blog, we will take a closer look at the unsung heroes behind successful cold transport. RipplePak as a
temperature-controlled packaging supplier in the USA
is the driving force behind ensuring goods arrive in pristine condition.
Join us as we explore their pivotal role, sustainable cold chain packaging, and the significance of cold packs for shipping.
The Crucial Role of Temperature-Controlled Packaging Suppliers
In the world of cold transport, temperature-controlled packaging suppliers serve as the backbone of the industry. Their expertise and specialized solutions are vital in preserving the integrity of perishable products throughout the shipping process. By meticulously managing temperature requirements, they ensure that goods maintain optimal freshness from start to finish. Let's delve deeper into their contributions.
Sustainable Cold Chain Packaging: Paving the Way for a Greener Future
With sustainability at the forefront of global consciousness, the packaging industry is actively seeking eco-friendly solutions. Temperature-controlled packaging suppliers in the USA are no exception. They are embracing
sustainable cold chain packaging
options that minimize environmental impact while keeping products fresh. Let's explore some of the key aspects of this movement.
Environmentally Friendly Materials

: Suppliers are shifting towards packaging materials that are recyclable, compostable, and made from renewable resources. This reduces waste and contributes to a circular economy.

Energy Efficiency

: Sustainable packaging solutions focus on reducing energy consumption and greenhouse gas emissions. By optimizing insulation and cooling mechanisms, suppliers aim to minimize their carbon footprint.
Cold Packs for Shipping: Cool Innovations for Fresher Deliveries
One of the critical components of successful cold transport is the effective use of cold packs. These packs help maintain the desired temperature and ensure goods remain fresh and undamaged. Let's take a closer look at the different types of cold packs commonly used in the industry.
Gel Packs: These reusable and durable packs provide consistent cooling for perishable items. They are designed to maintain the required temperature for extended periods, ensuring optimal freshness.
Dry Ice: Often used for deep freezing and ultra-low temperature requirements, dry ice is a popular choice in cold transport. It ensures products stay frozen throughout their journey.
Phase Change Materials (PCMs): PCMs offer a unique approach to temperature control. They absorb and release thermal energy, maintaining a constant temperature within the packaging and safeguarding product quality.
The Benefits of Effective Cold Transport Packaging
The efforts of temperature-controlled packaging suppliers go beyond preserving product quality. They also offer a range of benefits that contribute to the overall success of the cold transport industry.
Extended Shelf Life: Proper temperature control helps extend the shelf life of perishable goods, reducing waste and maximizing profitability for businesses.
Consumer Confidence: By delivering fresh and high-quality products, companies can enhance customer satisfaction and build trust in their brand.
In Conclusion: Embracing Freshness in Every Journey
Temperature-controlled packaging suppliers in the USA
are the unsung heroes behind successful cold transport. Their expertise, sustainable packaging solutions, and utilization of cold packs ensure that perishable goods arrive at their destination in optimal condition. Ripplepak, a leading packaging provider, embraces these advancements to deliver top-quality packaging solutions that keep products fresh throughout the supply chain.